Lise
Durantou
Junior research assistant (CERC-ULaval)
Phone : 418-656-2131 #3198
Fax : 418-656-2339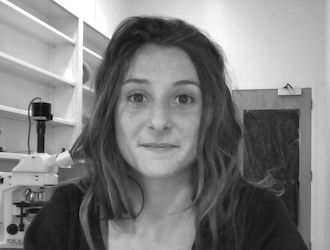 Education:
M. Sc. Oceanography (2010-2012)
Université de Quebec à Rimouski (UQAR), Institut des Sciences de la Mer (ISMER), Quebec, Canada
Utilisation de dinokystes dans la reconstruction paléoceanographique pré- et post-industrielle des environments marins Arctiques, mer de Beaufort (Canada)

Master Environnements Océaniques Littoraux et Hauturiers (2009-2010)
Université de Bordeaux 1, France
Année d'échange universitaire CREPUQ avec ISMER-UQAR, Québec, Canada

Licence Sciences de la Terre et de la Mer (2008-2009)
Université de Las Palmas de Grande Canarie, Canary Islands, Spain

Diplôme d'Études Universitaires Générales en Sciences de la Terre et de la Mer (2006-2008)
Université de Bordeaux 1, France

Research Interests :
Earth sciences, marine geology, paleoenvironments, quaternary palynology (pollen grains, spores, dinoflagellate cysts and other palynomorphs) reconstruction of physico-chemical parameters of surface transfer functions, paleoecology.
Publications:
Radi, T, Bonnet, S, Cormier, MA, de Vernal, A, Durantou, L, Faubert, E, Head, MJ, Henry, M, Pospelova, V, Rochon, and Van Nieuwenhove, N. Operational taxonomy for round, brown, spiny dinocysts from high latitudes of the Northern Hemisphere. Palaeogeography, Palaeoclimatology, Palaeoecology (submitted).

Durantou, L, Rochon, A, Ledu, D and Massé, G. 2012. Quantitative reconstruction of sea-surface conditions over the last ~150 yr in the Beaufort Sea based on dinoflagellate cyst assemblages: the role of large-scale atmospheric circulation patterns, Biogeosciences Discussion, 9, 7257-7289, 2012, BioGeosciences (under review).