Lajeunesse
Patrick
Professor (ULaval)

Phone : 418-656-2131 post 5879
Fax : 418-656-3960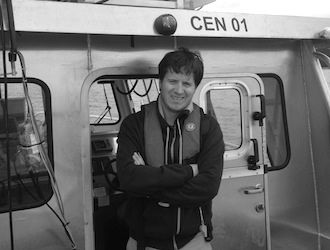 Education:
Postdoctorate (Alberta)
PhD (Laval)
MSc (Sherbrooke)
BSc (Sherbrooke)
Research Interest:
Marine geomorphology and stratigraphy

Selected Publications:
Normandeau, A., Lajeunesse, P., St-Onge, G. 2013. Shallow-water longshore drift-fed submarine fan deposition (Moisie River Delta, Eastern Canada). Geo-Marine Letters, DOI 10.1007/s00367-013-0336-0.
Lajeunesse, P. 2012. A history of outbursts. Nature Geoscience, 5, 846-847.

Roger, J., Duchesne, M.J., Lajeunesse, P., St-Onge, G., Pinet, N. 2011. Imaging pockmarks and ring-like features in Hudson Bay from multibeam bathymetry data. Geological Survey of Canada Open File 6760, 19 pp.

Ross, M., Lajeunesse, P., Kosar, K.G.A., 2010. The subglacial record of northern Hudson Bay: insights into the Hudson Strait Ice Stream catchment. Boreas, 40(1), 73-91.

Lajeunesse, P., St-Onge, G. 2008. The subglacial origin of the Lake Agassiz-Ojibway final outburst flood. Nature Geoscience, 3, 184-188.