Srikanth Ayyala Somayajula
Srikanth
Ayyala Somayajula
PhD Student
Phone : 418-656-2131 #3198
Fax : 418-656-2339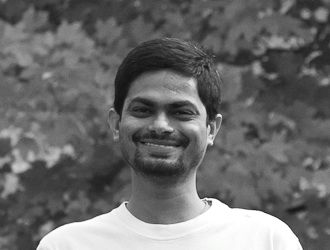 Education:

PhD Oceanography, Université Laval, Québec, QC, Canada (2012 - present)
Canada Excellence Research Chair in Remote Sensing of Canada's New Arctic Frontier
ULaval (Canada) and CNRS (France)
Dissertation topic: Study of the optical properties of the Arctic Ocean and application to remote sensing of ocean colour

Master of Philosophy in Physics, Annamalai University, (2009), India
Dissertation title: Conductivity stidies of some glass ionomers

Master of Science in Space Physics, Andhra University College of Science and Technology, Waltair, Visakhapatnam, Andhra Pradesh, (1999 - 2001)
Dissertation title: SROSS-C2 Satellite data analysis

Bachelor of Science in Mathematics, Chemistry and Physics, Andhra University College of Science and Technology, Waltair, Visakhapatnam, Andhra Pradesh
Research Experience :

Project Scientist, Indian National Centre for Ocean Information Services (INCOIS), Hyderabad, India (September 2011- August 2012)
Senior Research Fellow,Center for Studies on Bay of Bengal, Andhra University in SATCORE project (August 2009 - August 2011)
Junior Research Fellow, Center for Studies on Bay of Bengal, Andhra University in SATCORE project (February 2008 - July 2009)
Research Scholar, Department of Physics, Sri Venkateswara University (September 2004 – September 2005)

Research Interests :

Ocean Color Remote Sensing
Radiative Transfer modeling
Ecosystem modeling & Primary Productivity
Bio Optics
Optical Properties of Water (Inherent & Apparent Optical Properties)

Publications in conference proceedings
Srinivas Rao et al., (2013), "Absorption, backscattering and chlorophyll distribution in coastal waters off Visakhapatnam" Proceedings of National Conference OSICON 2013 "Role of Oceans in Earth System", IITM, Pune, 26-28 November 2013
Publications:

Remote Sensing of the Chlorophyll concentration in Coastal Waters along East Coast of India: Pre-Algorithmic Investigations into the optical coherency of surface and in-situ measurements" International Journal of Oceans and Oceanography. ISSN 0973-2667 Volume 5, Number 1 (2011), pp. 35-42.

Rao, S. A., et al. (2011), Modulation of SST, SSS over northern Bay of Bengal on ISO time scale, J. Geophys. Res., 116, C09026, doi:10.1029/2010JC006804

Phytoplankton Dynamics and Seasonality in Visakhapatnam Coastal Waters along East Coast of India using Hyperspectral Derivative Spectra" International Journal of Oceans and Oceanography. ISSN 0973-2667 Volume 5, Number 2 (2011), pp. 157-167
S. R. Pandi, Rayaprolu Kiran, Nittala S. Sarma, A.S. Srikanth, V.V.S.S. Sarma, M. S. Krishna, D. Bandyopadhyay, V.R. Prasad, T. Acharyya, K. G. Reddy (2013), CDOM and phytoplankton absorption in two adjacent contrasting ecological niches of the northwestern Bay of Bengal during southwest monsoon. Ocean Dynamics: DOI 10.1007/s10236-013-0678-1.
A.K. Vijayan, S.A. Somayajula (2014), Effect of accessory pigment composition on the absorption characteristics of a dinoflagellate bloom in a coastal embayment, OCEANOLOGIA, 56 (1), 2014. pp. 1–18. Doi: 10.5697/oc.55-4.917
S. S. Shaju, P. Minu, A. S. Srikanth, P.Muhamed Ashraf, A. K. Vijayan, and B. Meenakumari (2015), "Decomposition study of in vivo phytoplankton absorption spectra aimed at identifying the pigments and the phytoplankton group in complex case2 coastal waters of the Arabian Sea", Oceanological and Hydrobiological Studies. Volume 44, Issue 3, Pages 282–293.