July, 2023

1- Sam and Olivier in Kuujjuaq: Archival Research, Meetings, and Fishing

We are delighted to share the exciting activities of Sonagnon Olivier Tokpanou, PhD student, and Samantha Farquhar, visiting Fulbright student at Université Laval. During their recent trip to Kuujjuaq from June 14-28, Sam and Olivier undertook interesting research and led meetings regarding collaborative ecosystem models. They even spent some time fishing with their Inuit hosts.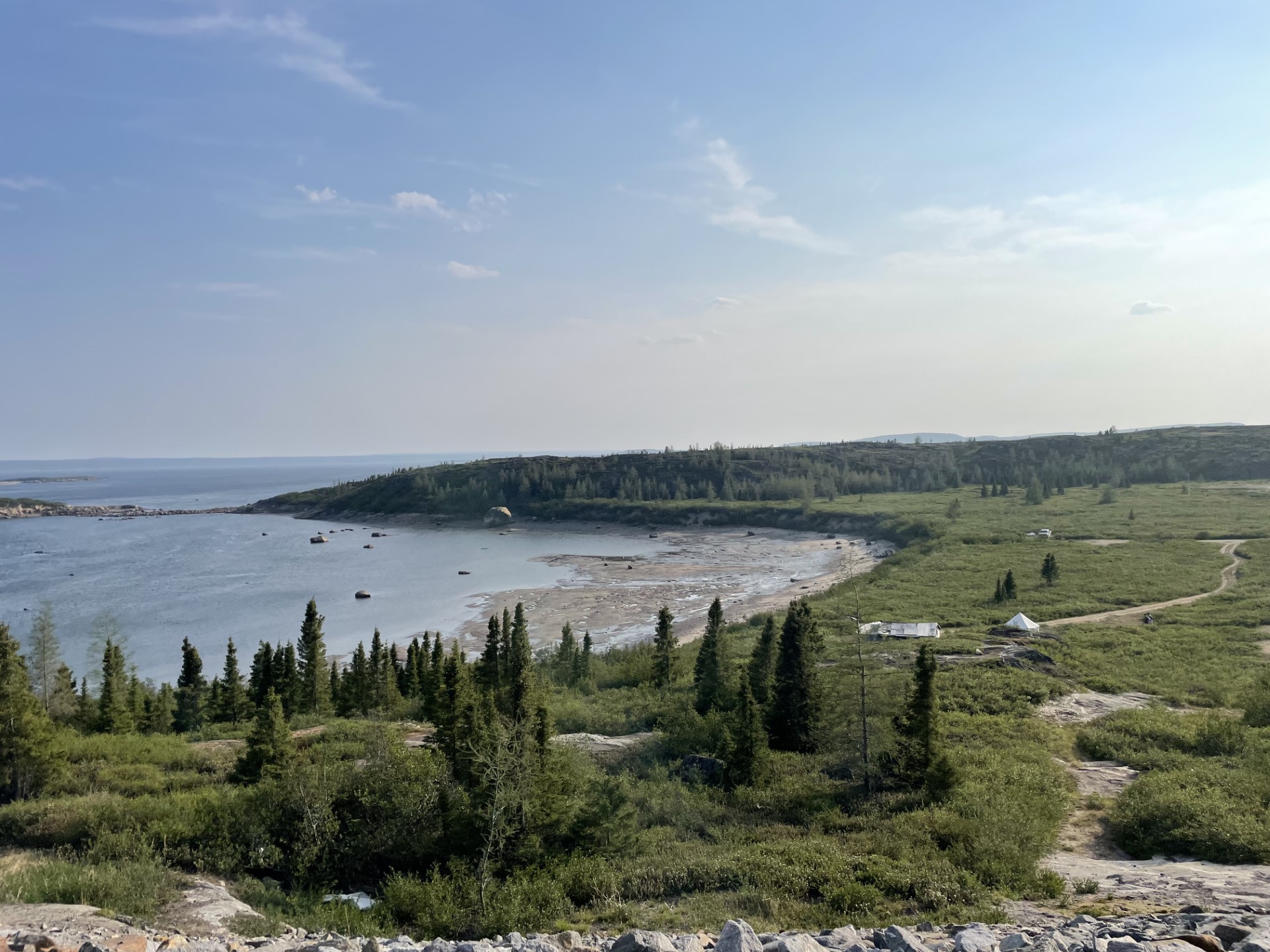 One of the main objectives of their trip was to meet in person with Makivik's scientific partners at the Nunavik Research Center (NRC). The NRC is an Inuit-led research organization that has been in place for 45 years and conducts community-based science that serves the needs of the Inuit. Sam and Olivier met with NRC scientists to discuss collaborating to host future workshops with community members. Specifically, the workshop will be conducted with NRC Wildlife Biologists and local experts and will be about 2 different ecosystems (Ungava Bay and Hudson Coast).
Additionally, Sam and Olivier conducted archival research at the NRC. They delved into many old reports, uncovering a trove of hidden data that will contribute to the ecosystem models. These findings will significantly enhance the ongoing research and provide crucial insights into the population dynamics of the region's marine resources and their vulnerability to climate change.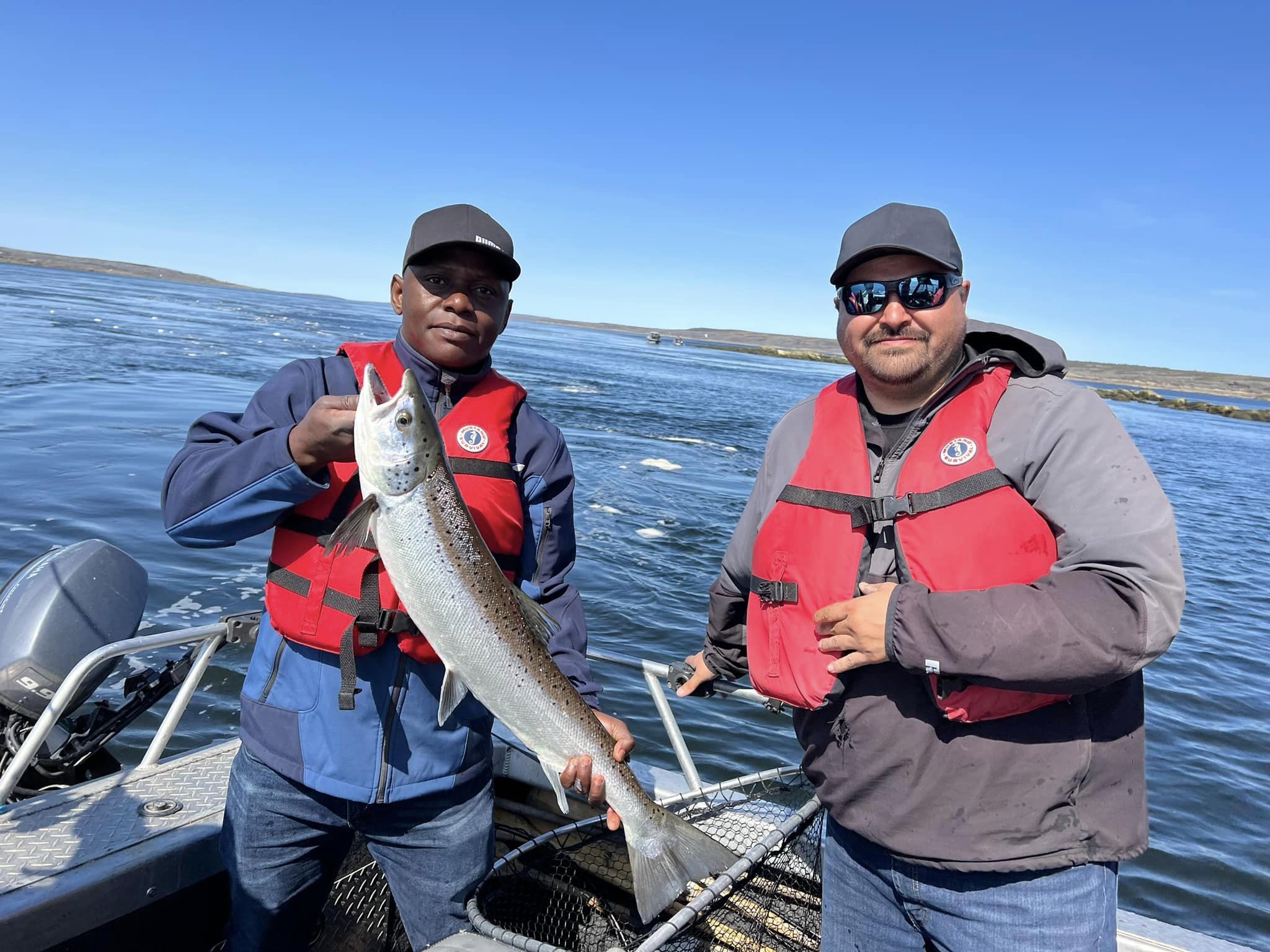 Beyond their research efforts, Sam and Olivier took the initiative to lead meetings with various stakeholders. Their presentation was met with an enthusiastic response, and their collaborators, Mathilde Lapointe St-Pierre and Jérôme Pelletier were eager to help organize a workshop with community member's next fall. This workshop will be of great importance, as it will allow Sam and Olivier to integrate local Inuit knowledge in the construction of the Ecopath with Ecosim (EwE) and value chain models, making it more precise and relevant to the needs and aspirations of local communities.
Sam and Olivier also held meetings with stakeholders from the commercial and recreational fishing sectors. These meetings enabled them to acquire valuable knowledge from experts in the fishing industry and, again, to ensure that their research corresponded to the needs and concerns of those directly involved in the region's fisheries.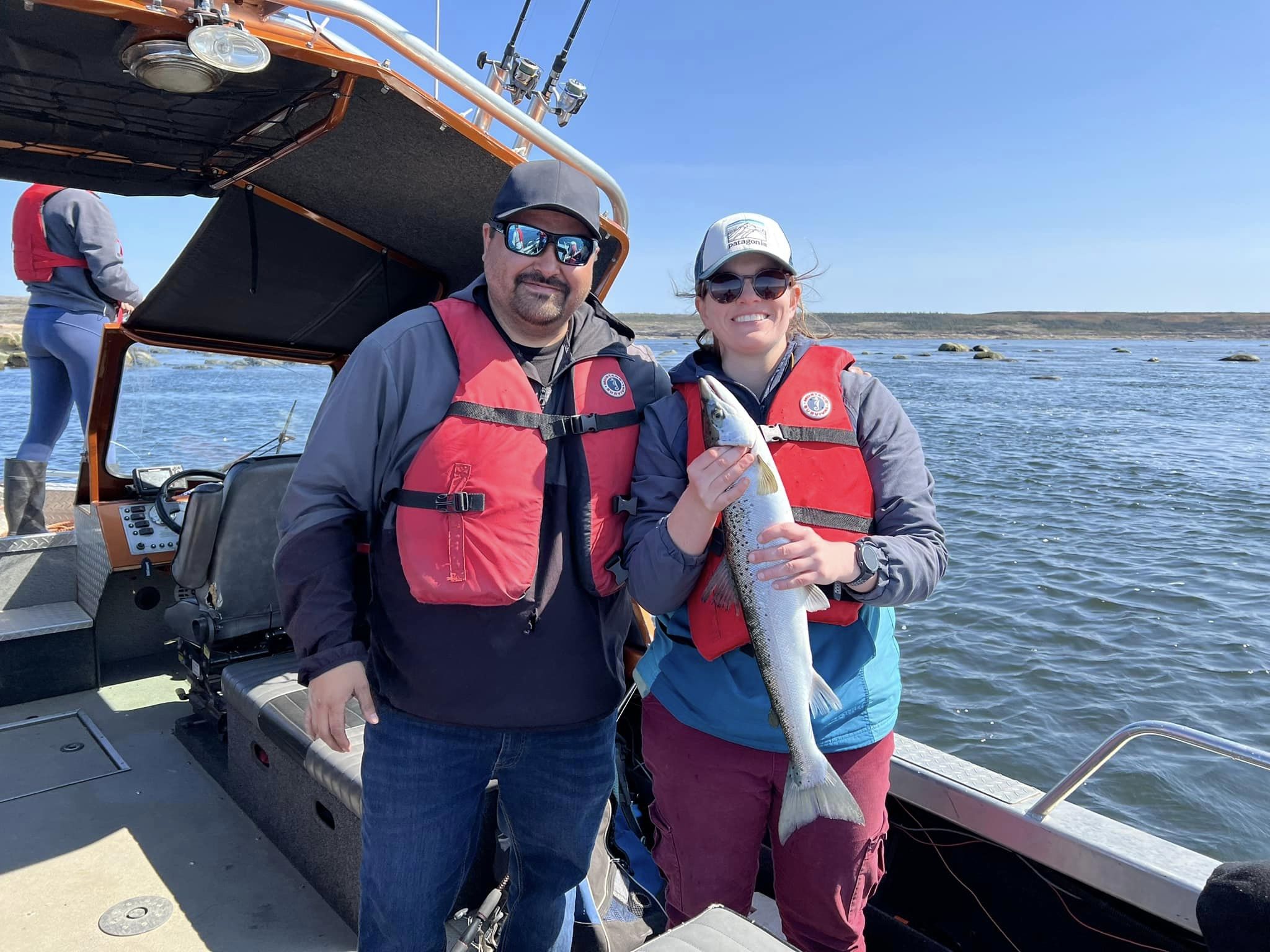 All these readings and talks about Nunavik's marine ecosystems and fisheries became suddenly much more concrete when Sam and Olivier eventually found time to enjoy Kuujjuaq's beautiful natural scenery. They took the opportunity to participate in fishing on the Koksoak River with Etua, a local guide from Etua's Arctic Adventures. It was a memorable experience that allowed them to further appreciate Nunavik's wonders and see salmon, trout, and sculpins (locally known as "ugly fish").
As their trip ended, Sam and Olivier left Kuujjuaq with the firm goal of returning next fall to continue working with scientific partners to organize the planned workshop with members of local communities. Their commitment to bridging the gap between scientific research and local knowledge will bring meaningful and lasting results to the region.
Stay tuned for more information on Sam and Olivier's future trip to Kuujjuaq, and the valuable contributions they will make to the field of research. Sam & Olivier!


March, 2020

1- A few members of the international research program Nunataryuk (Horizon 2020 - ArcticNet) took part in a tour of communities in the Inuvialuit Settlement Region this winter in order to follow-up on the research being conducted into the ecosystem impacts of the thaw of continental, coastal and submarine permafrost in the Mackenzie Delta Region. The main objectives of the community tour (Inuvik, Aklavik, Tuktoyaktuk and Paulatuk) was to pursue our outreach in local schools, showcase preliminary data obtained during the 2019 field campaign and to discuss upcoming scientific activities: fieldwork, conferences, workshops. The participants also took part in the Our Climate - Our Arctic youth summit (Figure 1).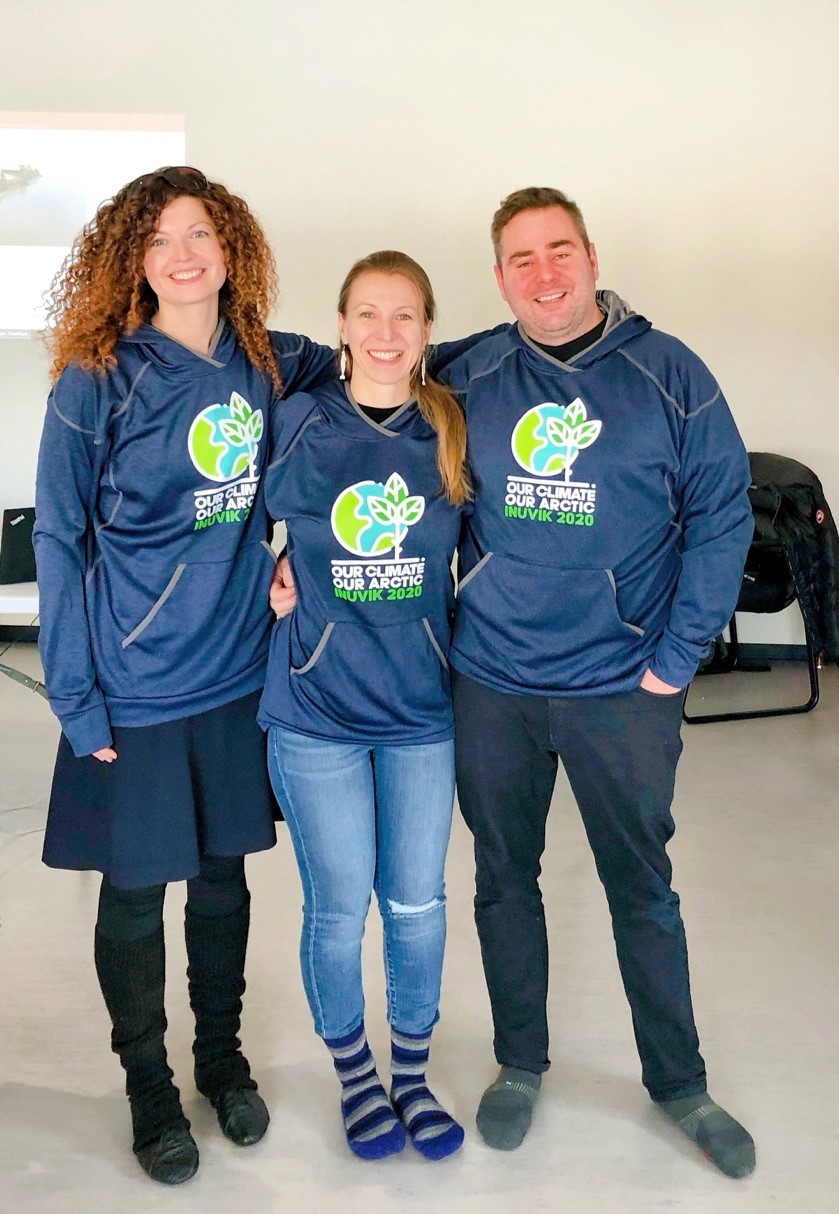 Figure 1: Left to right: Martine Lizotte (Takuvik, Université Laval), Lisa Loseto (DFO), Dustin Whalen (NRCan) at the 'Our Climate - Our Arctic' youth summit in Inuvik, presenting talks on the impacts of climate change on coastal geosystems and the food webs they support. Photo credit @ Jade Falardeau (UQAM).


February, 2020

1- Two Takuvik scientists, Dr. Eric Rehm and Dr. Guislain Bécu, travelled to Baltic Sea port town of Härnösand, Sweden to participate in a series of deployments of a Kongsberg HUGIN autonomous underwater vehicle (AUV) in order to test and calibrate the acoustic sensors necessary for under-ice navigation and ice-bottom imaging. The HUGIN AUV, named 'Rán' after the Norse goddess of the sea, was operated by Dr. Anna Wåhlin of University of Gothenburg. Along with Université Laval's HUGIN, these two AUVs represent the world-wide fleet of Kongsberg HUGIN AUVs dedicated to polar science. All Photos




Photo: Making measurements of ice thickness


Video: Ran emerging from a day under the ice


2- Reinhard Pienitz and his colleagues from Takuvik have determined the lakes in northern Quebec that will react most quickly to climate change. Their work, which has just been published in the journal Global Change Biology, suggests that the scientific community would benefit from concentrating its efforts on these lakes to properly document the current and future manifestations of planetary change in these environments. Read more...

3- An international team of researchers and mediators, led by Takuvik, has developed an ambitious and innovative initiative in terms of communication and scientific mediation around the Green Edge research project, focusing on the impact of climate change on phytoplankton bloom in the Arctic Ocean and on the food chain, up to Inuit. An innovative approach to communication, collaborative and multi-media, has proven to be fundamental to publicizing this major research initiative. Read more...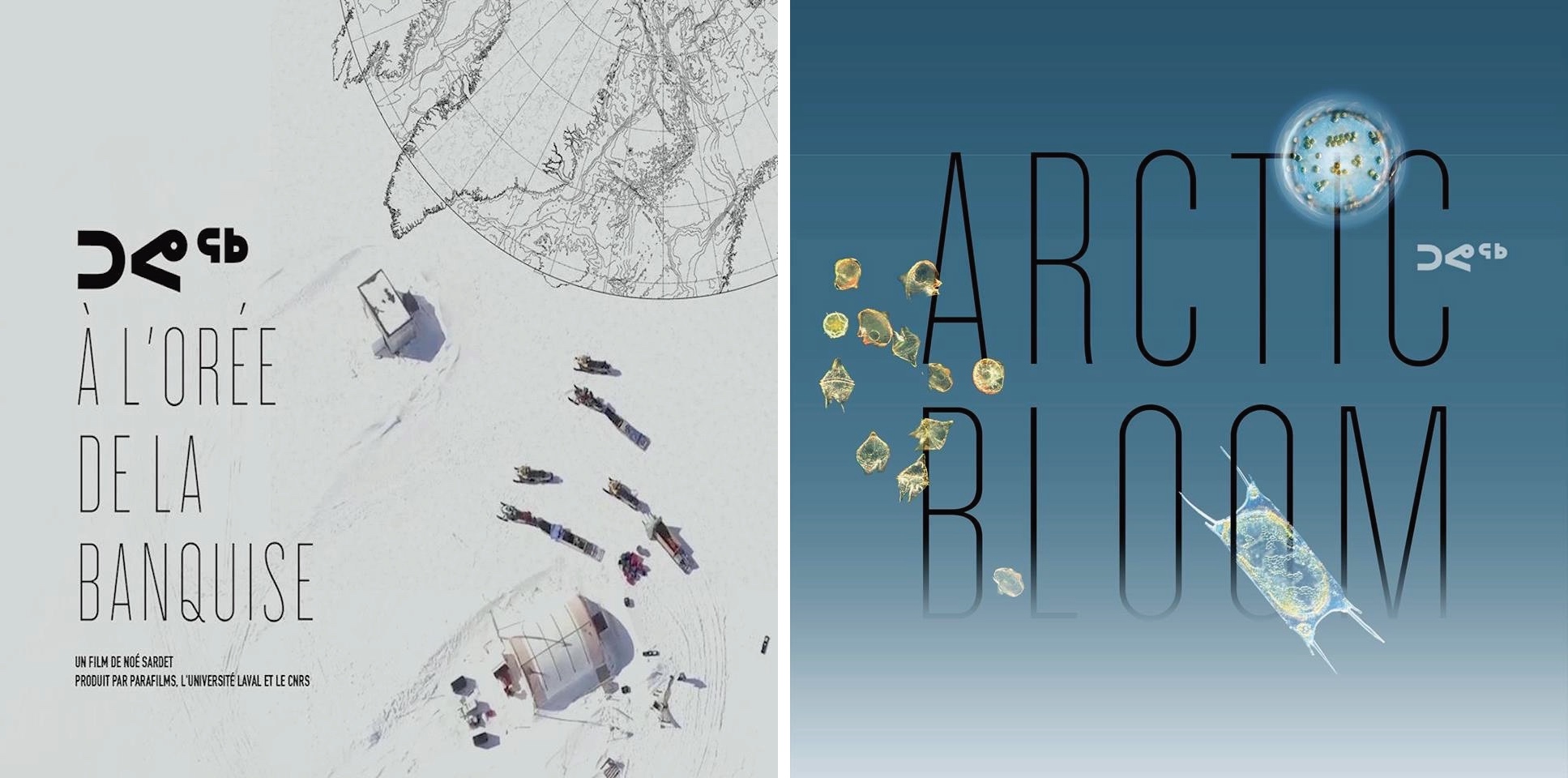 January, 2020


1- Raoul-Marie Couture, the Takuvik deputy director, helped develop a simulation tool that shows how much phosphorus stored in lake sediments can support the growth of algae. "Even if we cut off any new external supply, the phosphorus released by the sediments would be enough to support the growth of algae for several hundred years." Read more...


2- Jose Lagunas-Morales was interviewed by the Mexican channel Noticias 22 to talk about the research activities of our laboratory. Jose is field engineer in Arctic scientific missions, both in oceanographic campaigns and sea-ice expeditions. Pilot of autonomous underwater platforms such as Lagrangian BGC-Argo floats and propeller-driven AUVs, he is also a designer and builder.




December, 2019

The Annual ArcticNet Scientific Meeting took place in Halifax, Canada from December 2-5, 2019. Takuvik partners were on site. ArcticNet's 15th Annual Scientific Meeting (ASM 2019) hosted approximately 1100 registrants convening at the Convention Center. Participants included Arctic researchers, Inuit, First Nations, Métis and Northern community representatives, government and non-government organizations, students, and industry stakeholders. Read more...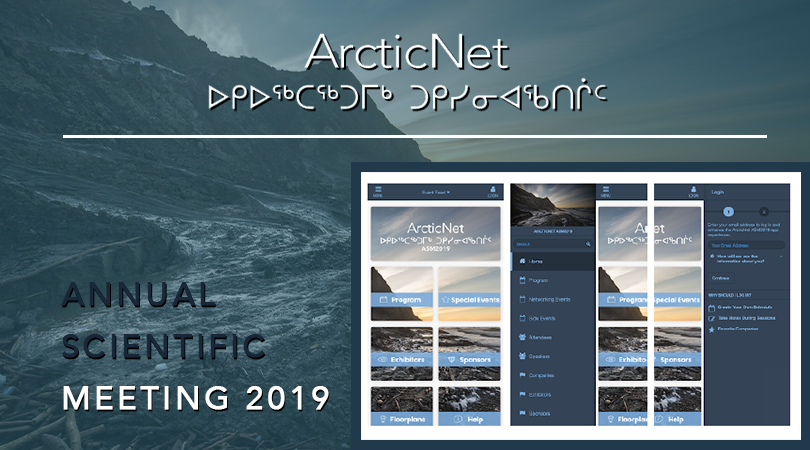 November, 2019

On November 5, the exhibition «Climat, l'expo à 360°» was opened at the French Institute in Budapest, thanks to the French BNP Paribas Foundation. Scientist Florent Domine leading research on the acceleration of permafrost thaw in Arctic Quebec is speaking at this inaugural conference. The exhibition explores the issue of human-induced greenhouse gas emission and uses a documentary approach to guide visitors through geopolitical, economic, energy, environmental, technological and scientific issues related to climate change. Between November 4 and December 12, the bilingual exhibition featured a number of programs: guided tours for school groups, conferences, lectures and film screenings. Read more...


September, 2019

Les Chroniques du Mertz", a series of 8 bilingual videos dealing with educational concepts around Antarctica, were created as part of the ACE (Artic Circumnavigation Expedition) project. This large-scale scientific project involved an expedition around the Antarctic continent to study the impact of climate change on the Antarctic natural resources. 22 scientific projects bringing together around fifty researchers made up the ACE Project. Among these projects, the Mertz-Diva (Mertz Regional Diversity Assessment Project), led by researchers from UMI Takuvik, Guillaume Masse and Philippe Archambault, aimed to study the impact of global warming on benthic ecosystems around the Mertz glacier. The subjects covered in these capsules deal with the exploration of Antarctica, present its environment and highlight marine ecosystems. Phytoplankton, krill, benthos, fish, birds, mammals are all polar living species that you can discover through these videos! Below, discover the first one.




August, 2019

As part of the Nunataryuk WP4 project 'Coastal water satellite tracking of organic matter in the Mackenzie Delta in the context of climate change permafrost thaw', our team conducted several experiments on field, in the Northwest Territories (Canada) and related their experiments through differents blogs. We invite you to read this very exciting writings!

First Days of the First Takuvik Expedition - a different kind of Easter hunt!
Kickoff to the second Nunataryuk / WP4 expedition in the Mackenzie Delta
Nunataryuk - WP4 - Mud from Space
Nunataryuk - WP4 - Microbes in the Canadian Arctic
Nunataryuk - WP4 - Expedition 3 Western Sector July 21-31, 2019
Nunataryuk - WP4 - Eastern Sector, August 1-4, 2019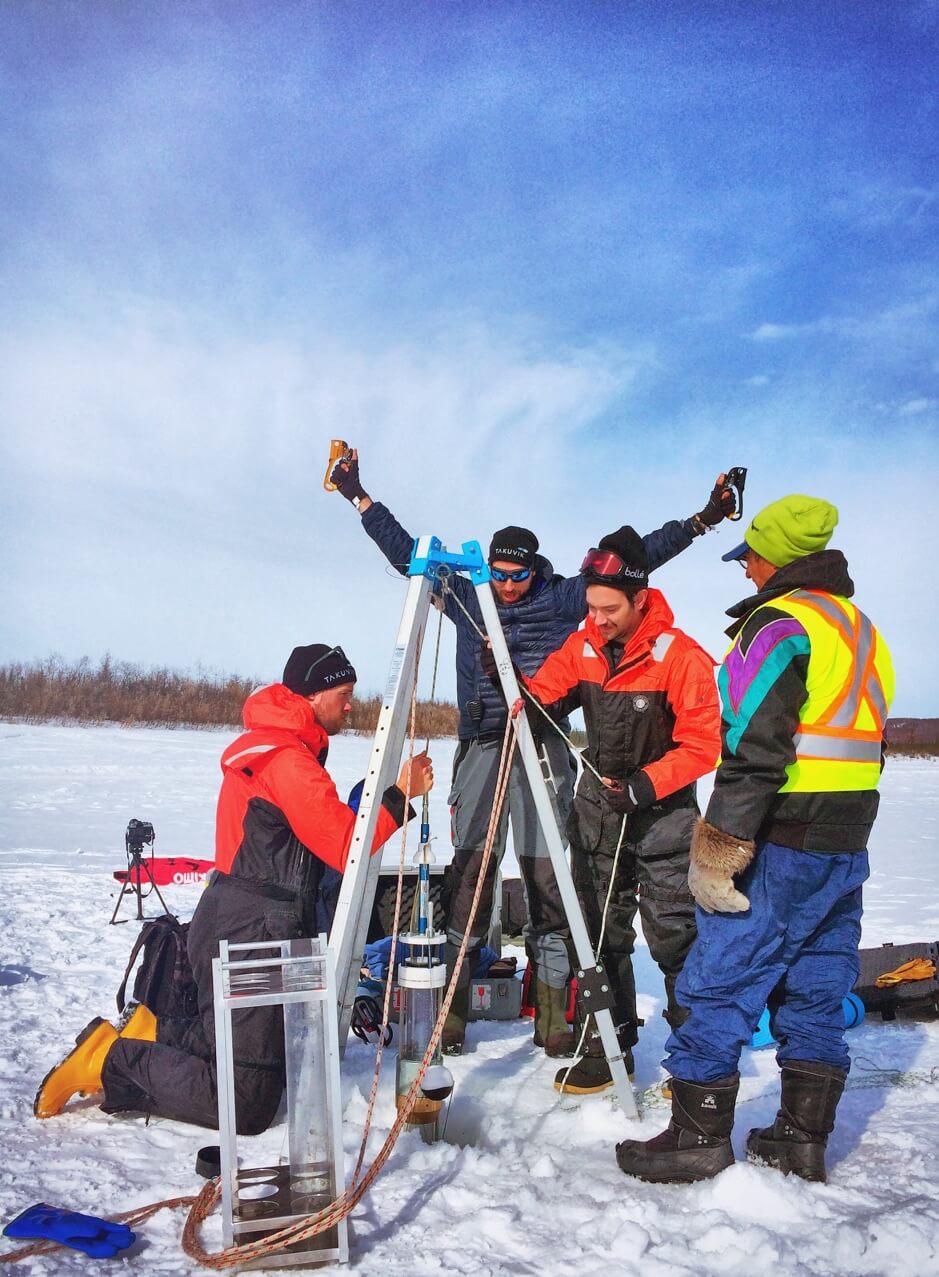 June, 2019

For the first time, an autonomous underwater vehicle (AUV) was deployed on board the research vessel Coriolis II by Takuvik researchers, Guislain Bécu, Jose Lagunas, Eric Rehm and Patrick Lajeunesse, to map the seabed of the St Lawrence River, in collaboration with Reseau Quebec Maritime, Kongsberg and UQAR.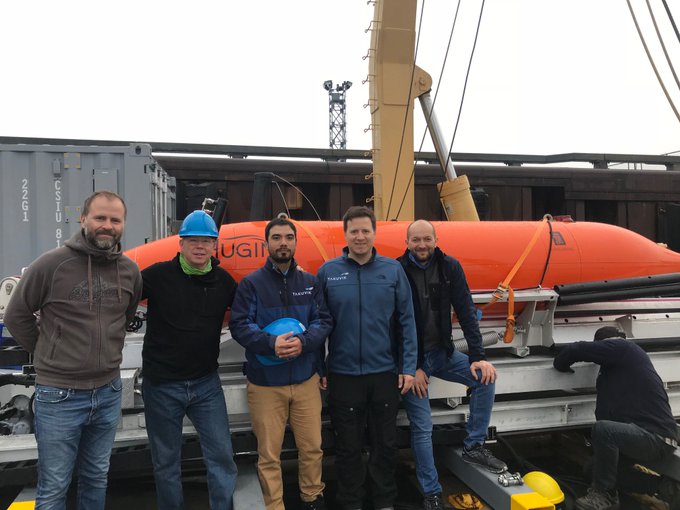 April, 2019

New results, mainly from data from the Tara Oceans expedition (2009-2013), provide the most comprehensive catalog to date of viruses found in all the world oceans, including the Arctic Ocean. Led by the Ohio State University in the United States, this study, which involves teams from Takuvik researchers, brings the number of known oceanic viral populations from 16,000 to nearly 200,000. Published as the cover story of Cell magazine dated May 16, 2019 (online April 25), the results reveal the importance of the Arctic Ocean as a reservoir of marine viruses. This work will become a reference for understanding the role of viruses in the responses of the ocean ecosystem to the impacts of climate change. Read more...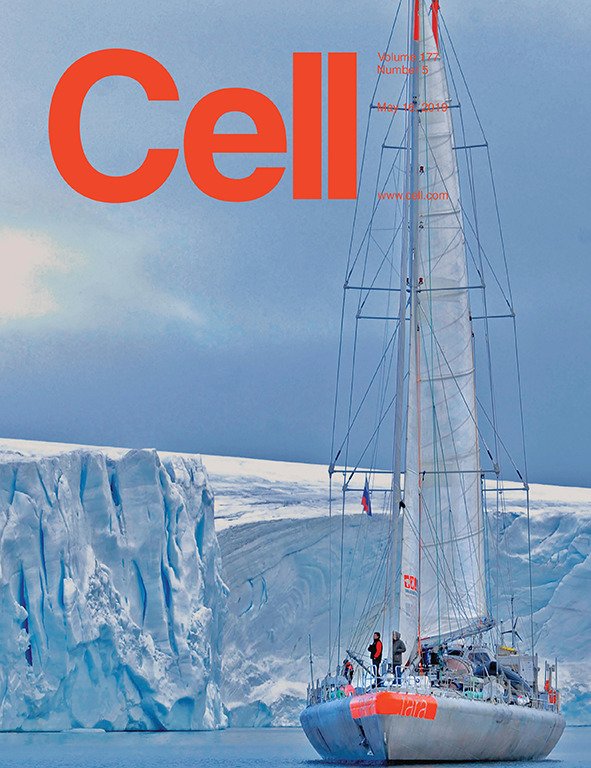 March, 2019

The two largest northern research universities in Canada and Norway - Université Laval in Québec City and the University of Tromsø. The Arctic University of Norway (UiT) in Tromsø are stepping up their collaboration with six new research projects that will draw on the expertise of teams of 26 professors, in biology, biochemistry, engineering, architecture, medicine, oceanography, and physics. These international projects involve contributors and partners in Canada, France, Norway, Scotland, and the United States. Read more...


February, 2019

As part of the Nunataryuk WP4 project 'Coastal water satellite tracking of organic matter in the Mackenzie Delta in the context of climate change permafrost thaw', our team conducted an ice-safety training in the largest (412 km2) teaching and research forest in the world, Forêt Montmorency, near Quebec City in Canada. The objectives of this winter training day were to 1) learn and practice safe ice drilling and coring techniques with experts Sylvain Blondeau (technician at Québec-Océan) and Christian Katlein (sea-ice physicist at Alfred-Wegener-Institut and Université Laval Post-Doc fellow); 2) deploy and test optical sensors and water collecting devices with Guislain Bécu, Atsushi Matsuoka (research associates at Takuvik) and Laurent Oziel (Université Laval Post-Doc fellow); and finally 3) re-create a mock station to test our team's speed and agility with Joannie Ferland, Martine Lizotte, Caroline Guilmette (Takuvik research associates) and Marie-Hélène Forget (Takuvik coordinator) before heading out for the upcoming 2019 field campaigns. Read more...




January, 2019

The 23 min movie «Arctic Bloom» was diffused on CBC, Land and Sea. 'In the Arctic Ocean, a team of scientists is running an important mission for the planet: studying the phytoplankton bloom at the edge of the sea ice, to better understand the impact of global warming'.


August, 2018

The second Sentinel North annual scientific meeting took place August 27-30, 2018 at Château Laurier and the new Voltigeurs de Québec Armoury. Researchers, students, collaborators and national and international partners including Takuvik colleagues, were encouraged to join the 350+ Sentinel North participants from Université Laval to enrich the discussions and establish new collaborations to improve our understanding of the northern environment and its impact on human beings and their health.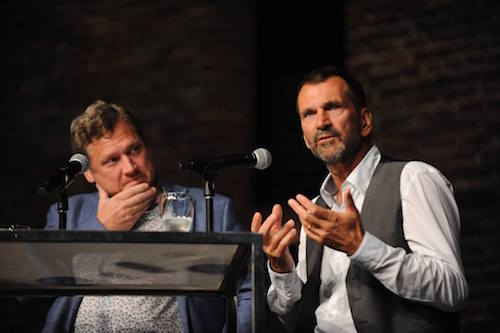 Yves de Koninck and Marcel Babin, Scientific directors of Sentinel North


July, 2018

Under the leadership of the Sentinelle North program of Universite Laval, and as part of the Green Edge project, an international PhD school took place on board the Canadian research icebreaker CCGS Amundsen in Baffin Bay, Nunavut (Canada). The school provided international students with a unique opportunity to interact with high-profile scientists, mainly from Takuvik, as part of a transdisciplinary and highly technological training program aiming to demystify the role of light in driving arctic marine food webs, ecosystems services, and human health in the North. Read the field report!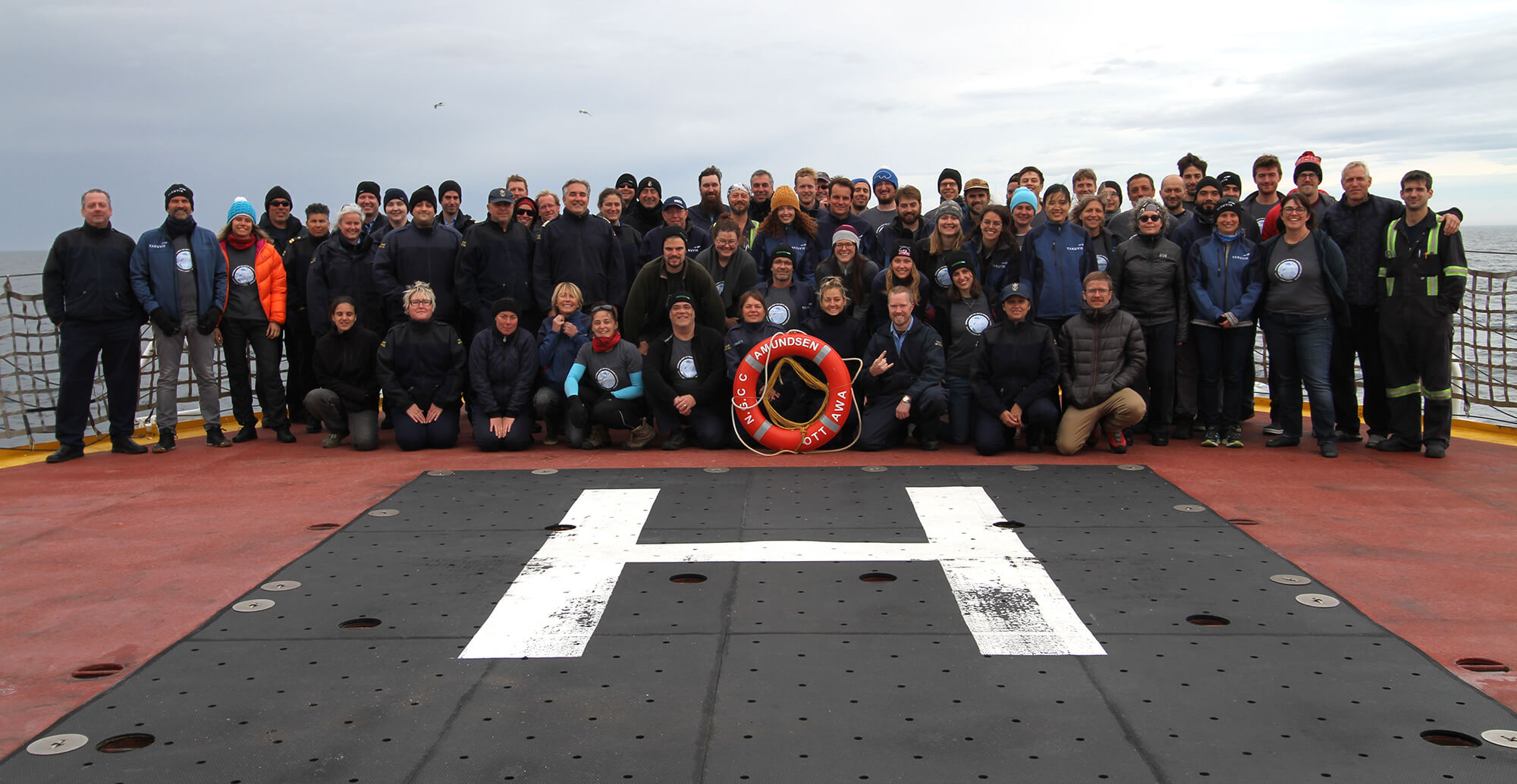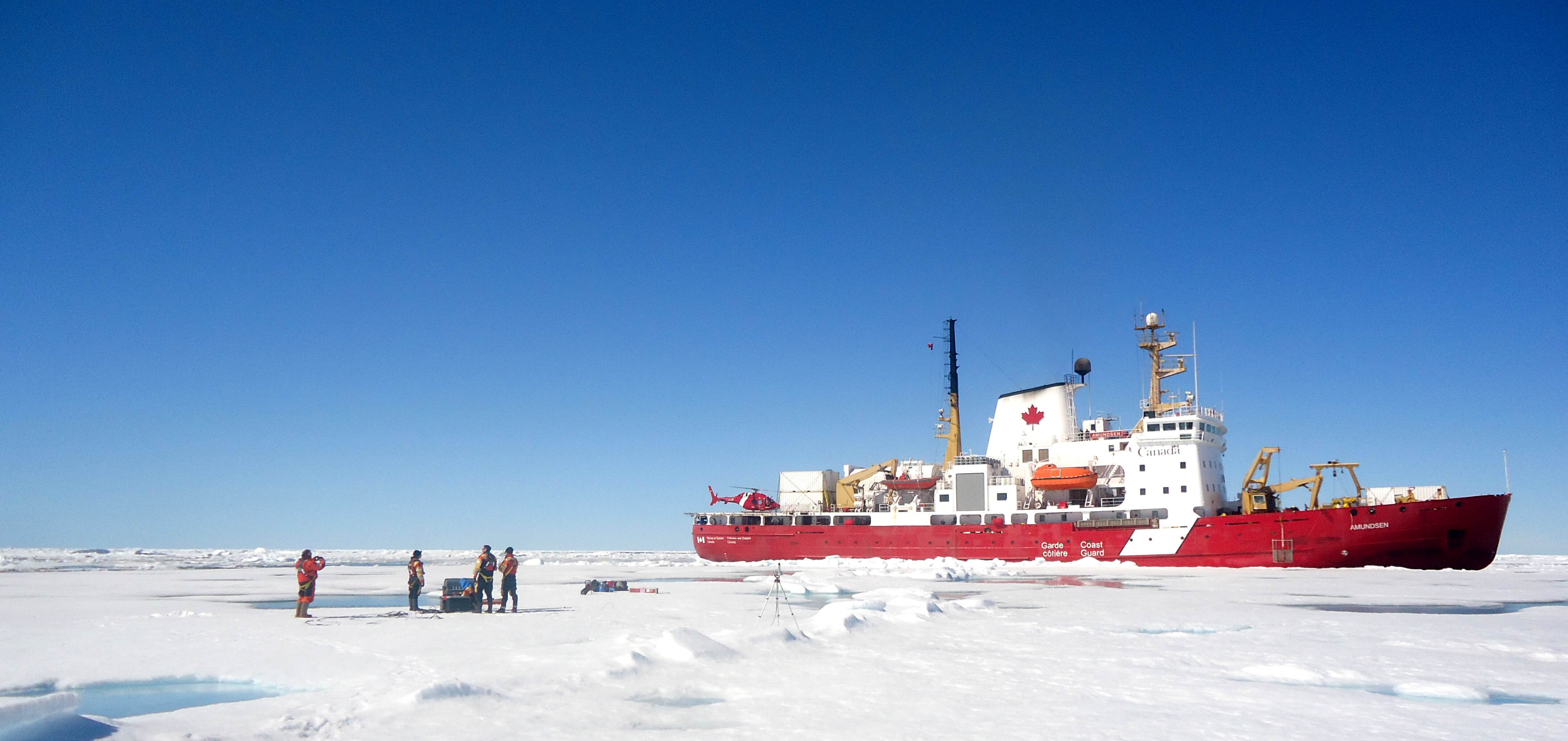 June, 2018

As part of the « Mon projet nordique » contest presented on June 5, 2018, the Institut nordique du Québec (INQ) and the Fonds de recherche du Québec - Nature and Technology (FRQNT) unveiled the six students who garnered the top honors of the « Mon projet nordique ». Myriam Labbé, PhD student in microbiology from the Joint International Laboratory Takuvik (supervised by Alexander Culley and Warwick Vincent), was one of the winner with her presentation 'Itsy-bitsy secrets of an aquatic Winogradsky column: Viral diversity and genetic potential'. Next to 5 others winners, she will present her project during the Arctic Circle Assembly which will take place in October 2018 in Reykjavik, Iceland.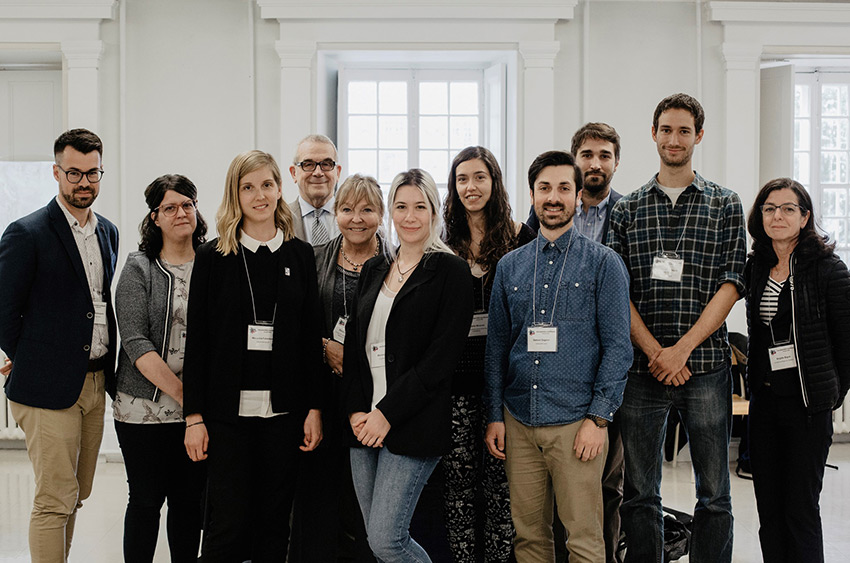 Myriam Labbé (in the center of the photo), winner of the contest « Mon projet nordique »


February, 2018

On February 13 at the Domaine Maizerets, the Consulat général de France à Québec, in collaboration with the UMI Takuvik, organized a 5 to 7 'The Great North, as if you were there!'. A unique opportunity for French people in Quebec City to interact with French researchers studying the impact of climate change in the Canadian Arctic. Watch the slideshow of photos taken during the event.




December, 2017

From December 11 to 15, 2017, at the Quebec City Convention Center, Arctic Change 2017 was held. It brought together leading Arctic researchers, graduate students, Northern community representatives, government and industry partners and stakeholders from all fields. During the week, scientists from Takuvik with 1500 of their colleagues, discussed the emerging global challenges and opportunities arising from climate change and modernization in the circum-Arctic. We took the opportunity to present our photo exhibition, developed as part of the Green Edge project, in collaboration with Parafilms.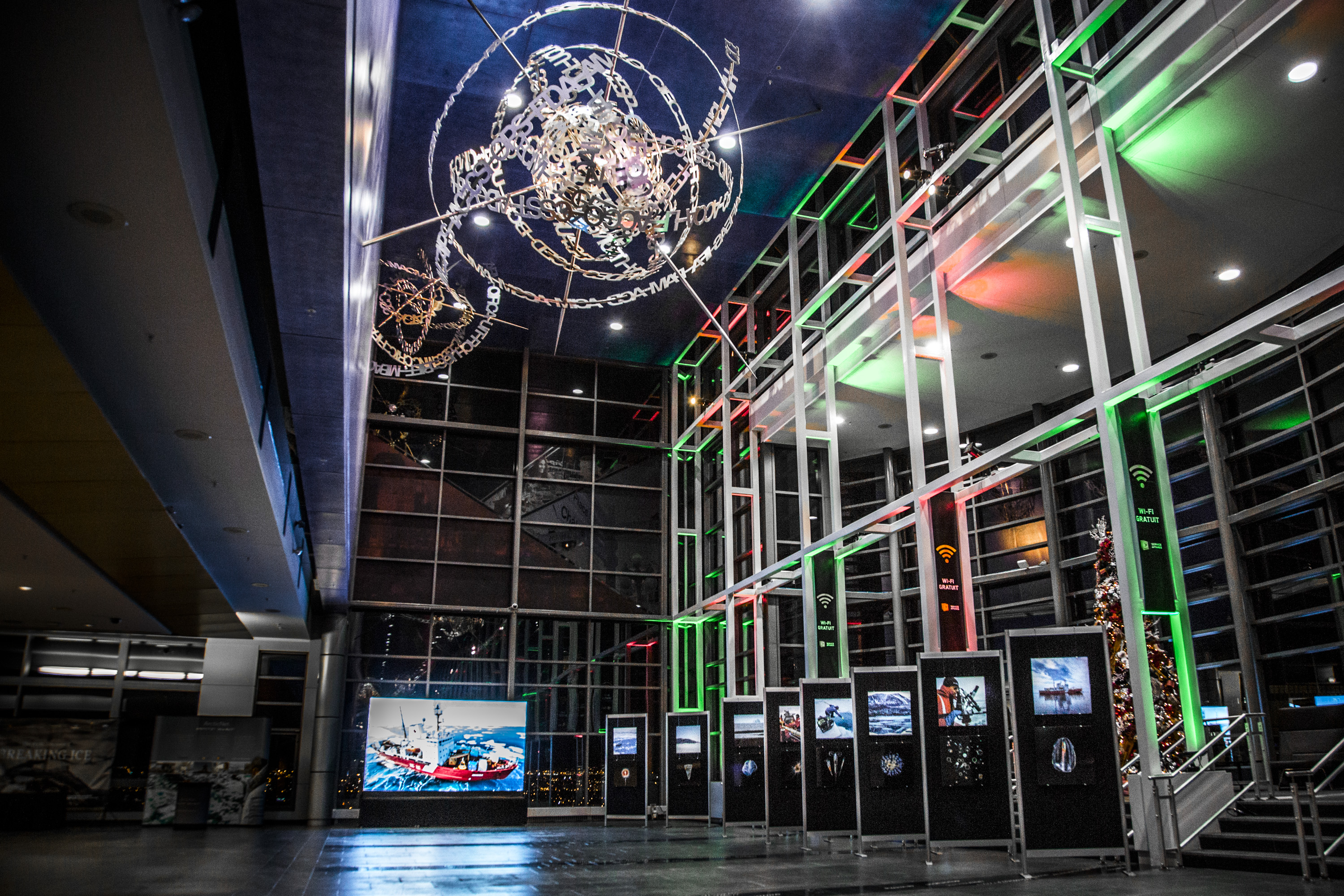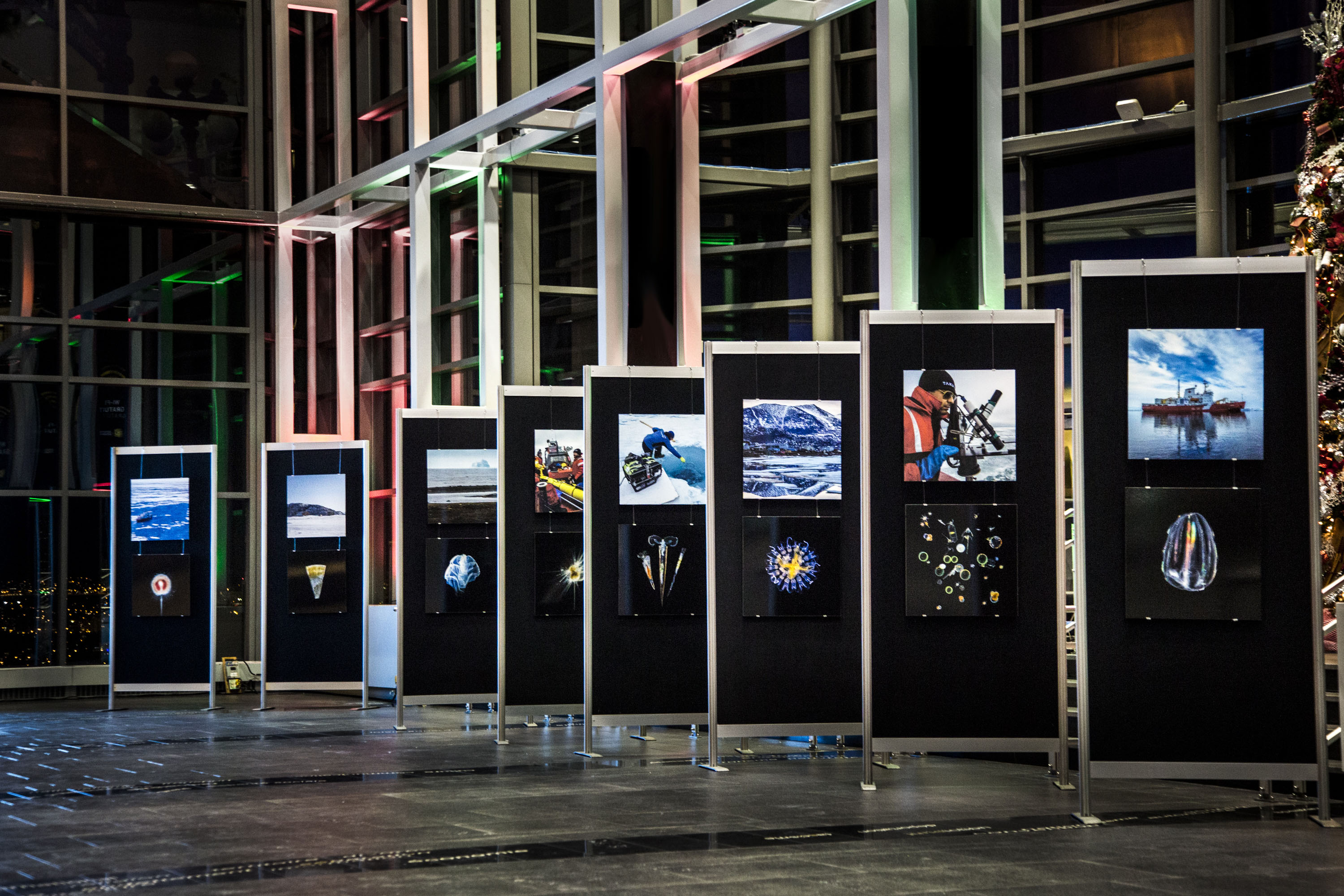 August, 2017

UMI Takuvik has been awarded a grant from the Prince Albert II of Monaco Foundation to support the dissemination of its educational activities throughout Europe, the Canadian Arctic, southern Canada and France, under the responsability of Julie Sansoulet. Scientific educators will be going from school to school, offering activities on the themes developed within the laboratory (impact of climate change on terrestrial and marine ecosystems in the Arctic). The AOA site, as well as activities related to plastic pollution and invasive species in the context of climate change will be the central points of the program.


June, 2017

The UMI Takuvik is part of Nunataryuk, a multidisciplinary project funded by the European Commission's Horizon 2020 program, dealing with the theme of 'permafrost thaw and the changing Arctic coast, science for socioeconomic adaptation'. Takuvik will be responsible for the 'Subsea permafrost' worckpackage, led by Atsushi Matsuoka and Marcel Babin, which aims to capitalize on field observations and other research over the past 15 years to derive quantitative constraints to better understand the vulnerable subsea permafrost system, moving toward a scientific basis for credible projections of its future trajectory.


February, 2017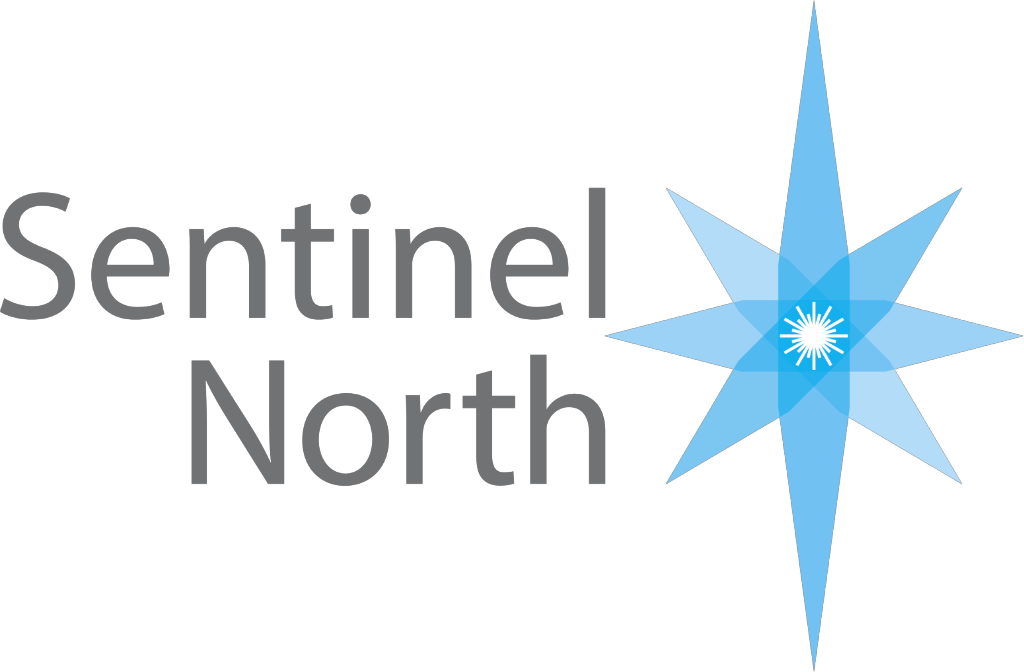 All the researchers and professors from Takuvik international joint laboratory are involved in Sentinel North research projects. With funding of $98 million over seven years by the Canada First Research Excellence Fund, the Sentinel North Strategy allows Université Laval to draw on over a half-century of northern and optics/photonics research to develop innovative new technology and improve our understanding of the northern environment and its impact on human beings and their health. Note that Jean-Eric Tremblay will be the leader of the BriGHT project (Bridging Global change, Inuit Health and the Transforming Arctic Ocean, see 3.3), Johann Lavaud will lead the project called 'The use of diatom microalgae for improving the treatment of the light-driven dysfunctions of the biological clock in Arctic human populations' (see 2.3).


January, 2017


The UMI Takuvik is part of INTAROS, a multidisciplinary project funded by the European Commission's Horizon 2020 program, that will develop an integrated Arctic Observation System (iAOS) using atmosphere, ocean, cryosphere and terrestrial data from an international consortium of laboratories. Takuvik will be responsible for validating existing bio-optical data collected in Baffin Bay during oceanographic campaigns and to support the deployment of Bio-Argo floats in the region by providing satellite data on a daily basis before and after their launch. ArcticNet and Université Laval are also involved in this project.


November 4-6, 2016

Julie Sansoulet, in charge of Humanities projects at Takuvik International Joint Laboratory, participated in the 17eme Forum international Science et societé, organized by the « Association Francophone pour le Savoir - ACFAS ». It was a great opportunity to transfer knowledge to graduate students. Consult the program and photos (facebook) for this event!




November 2016

Congratulations to Moritz Schmid who won the John Davies W Memorial Award of the Society of Naval Architects and Marine Engineers (SNAMES), Arctic Section!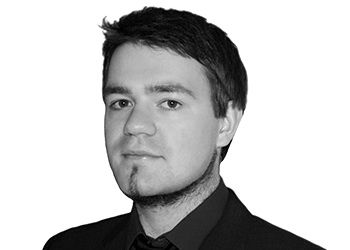 Moritz received this award for PhD studies on underwater imaging of plankton in the Arctic and the development of a machine learning model which automatically identifies species in the images. Combined, these technologies can provide an unprecedented insight into the Arctic ecosystem. He is supervized by Louis Fortier.


October 20-21, 2016

The Takuvik Scientific Committee (CS) visited Université Laval in late October. This meeting was an opportunity to inform our collaborators about Takuvik activities, and for the CS members to give recommendations about our ongoing and future projects. The members of the committee are: Bruno Blanke (Directeur adjoint scientifique océan atmosphère CNRS), Pascale Delecluse (Directrice de l'INSU-CNRS), Marie Audette (Vice-rectrice adjointe, Université Laval), Martin Fortier (Sentinelle Nord), Louis Legendre (Professeur émérite U.Laval/LOV), Gerhard Krinner (DR CNRS LGGE), Kim Juniper (Professeur, School of Earth and Ocean Sciences, University of Victoria) and Yves Bégin (Centre Eau Terre Environnement, INRS).


October 2016

Congratulations to Deo Florence Onda who won the 'Green Talents - International Forum for High Potentials in Sustainable Development' prize.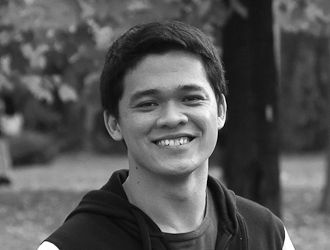 Deo received this award for his PhD studies on marine microbial ecology, with emphasis on elucidating eukaryotic microbial diversity, biogeography and their potential roles in different ecological processes. He is supervised by Connie Lovejoy.


September 2016

Canal Savoir's «La recherche par-delà les frontières» program highlights the centers of excellence of the three International Joint Laboratories (UMI) in Québec: The Center for Mathematical Research (UMI-CRM) at the Université de Montréal, which is interested in fundamental research and its application; UMI-Takuvik at Université Laval which works to better understand the impact of climate change in the Canadian Arctic; and UMI-LN2 at the Université de Sherbrooke which is interested in nanotechnologies and nanosystems.




September 2016

Welcome to Philippe Archambault, a Professor in the Biology Department at Université Laval! At Takuvik, Philippe will conduct studies on marine biodiversity and ecosystem functionning, and the impact of global change on marine ecosystems.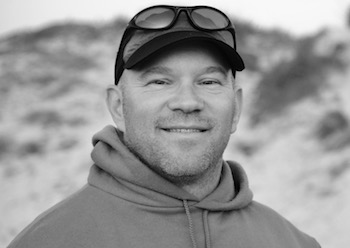 July 2016

After more than three months in the Hamlet of Qikiqtarjuaq, the last three members of the GreenEdge squeezed the last bit of equipment into the container that was to be transported back to Québec City by Sealift and said goodbye to the community for another year. Between April 20 and July 27, more than 50 students and researchers from six French research institutions and three Canadian universities lived and worked in close harmony, studying the biogeochemistry, ecophysiology and physics of the Arctic Ocean as the ice receded and the seasons changed.
Between June 3 and July 14, 2016, CCGS Amundsen was dedicated to the GreenEdge project. Fifty-three students and scientists participated in the oceanographic mission in Baffin Bay. GreenEdge's principal investigator, Marcel Babin, served as chief scientist for the first leg and Jean-éric Tremblay took over for the second half of the mission.
Visit the expeditions' blog.




June 2016

Welcome to Béatrice Saint-Cricq, directrice de recherche CNRS! At Takuvik, Béatrice will be in charge of developing partnerships between CNRS and Université Laval in the framework of Sentinelle Nord.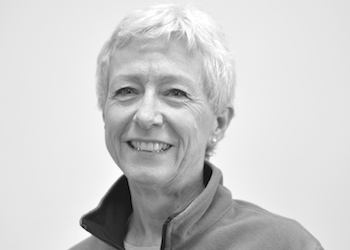 April 2016

The new Takuvik brochure is online. We invite you to consult or download it.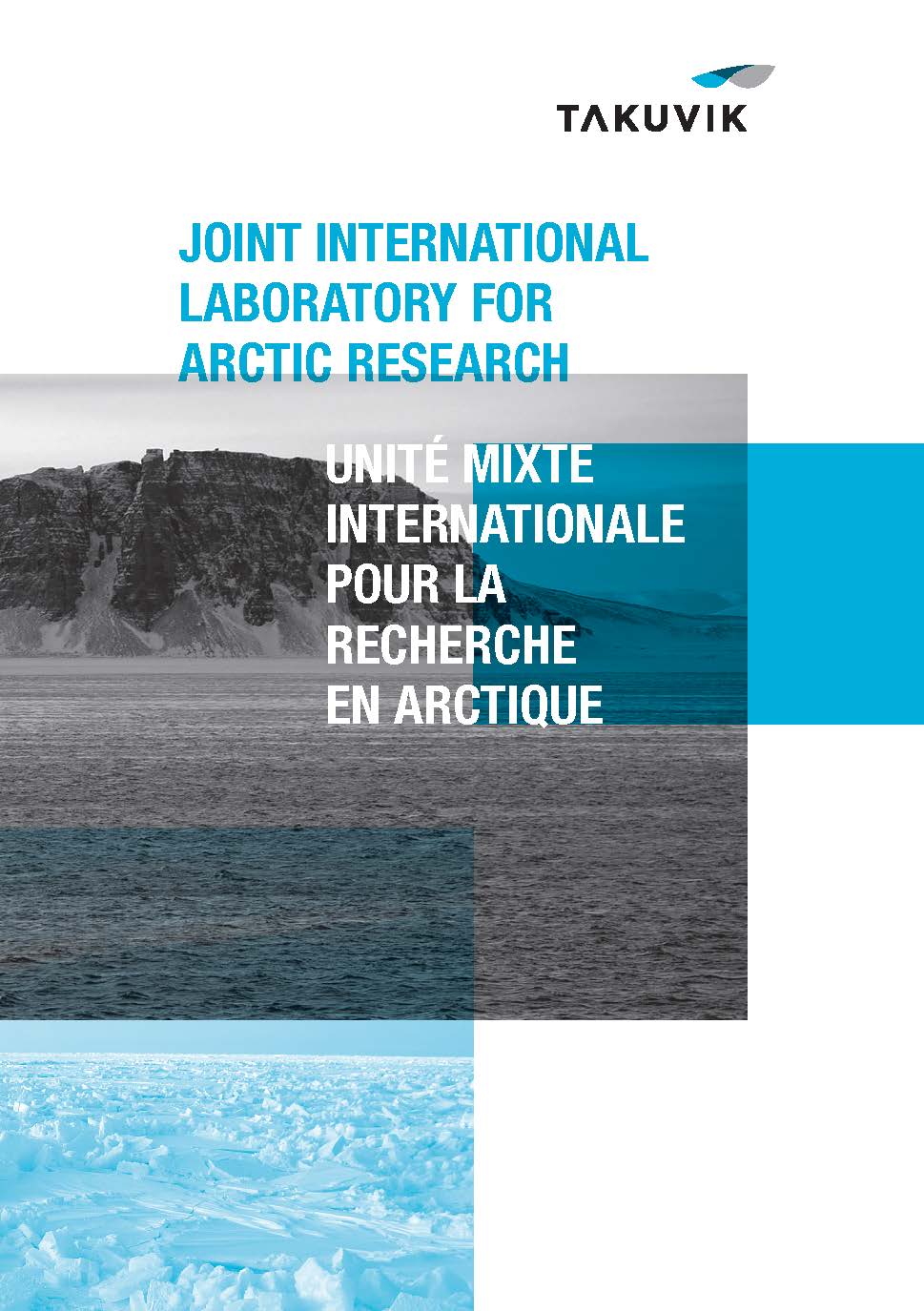 November 2015

Welcome to Johann Lavaud, a Chargé de Recherche at CNRS and an Adjunct Professor in the Biology Department at Université Laval! At Takuvik, Johann will develop studies on the regulation of the photosynthesis of phytoplankton and ice algae diatoms in relation to climate change.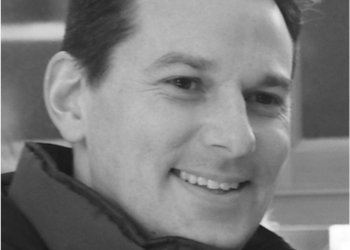 September 2015

One of our PhD students in Oceanography, Jordan Grigor, introduces you to the work he develops on 'some of the less well-known, but vitally important animals in the Arctic Ocean, and tell you why studying them is more critical than ever!'.




March 15 - July 15 2015

The 2015 Green Edge field campaign is currently operated from an icecamp on landfast ice near Qikiqtarjuaq, Nunavut (67°29.23N, 63°38.00W). The camp was set up in mid-March and snow, ice and water column processes will be continuously monitored until ice melt in late June - early July. The captains of the sailboat Le Vagabond, are our main interlocutors in Qiqiktarjuaq: they act as an essential relay with the Inuit community. Thus the village school will host scientific laboratories, and the local population will greatly assist in the establishment and development of the ice camp.
Follow the Greenedge 2015 ice camp operations on our blog.




February 2015

Now in their second winter in Qikiqtarjuaq, Eric Brossier and France Pinczon du Sel and their daughters Leonie and Aurore continue to live on their sailboat Le Vagabond in the sea ice. This is the family's fourth winter in Nunavut, first living on the ice off Grise Fjord for two winters. This year's scientific program includes a study of the algal bloom for Takuvik.
In the framework of the Green Edge project, research equipment is actually shipping to Qikiqtarjuaq, thus permitting the Takuvik team to start their scientific experiments from March to July 2015. The local newspaper published a paper about Eric and France activities.


January 2015

The findings of a study conducted by a team of researchers from the International Joint Laboratory Takuvik including Mathieu Ardyna doctoral student in oceanography, and Marcel Babin, director of the laboratory, are regarded as one of the ten discoveries of Quebec year by Québec Science magazine. The results of their research have also been published in Geophysical Research Letters. The current global warming, mild temperatures and reduced ice cover allow one second phytoplankton bloom in the fall in the Arctic Ocean. You could consult the list of newspapers about this topic.




December 2014

A Canadian / French consortium, coordinated by Takuvik researcher Florent Dominé, with the support of the BNP Paribas Foundation, is conducting a project 'Acceleration of Permafrost Thaw (APT) by Snow-Vegetation Interactions' designed to study the impact of climate change on the accelerated thawing of permafrost. On December 3, media representatives were invited to visit the Takuvik laboratories and to cover the signing of an agreement between the BNP Paribas Foundation, Université Laval and the Centre national de la recherche scientifique (CNRS).

Diaporama :

Credit-photos: @ Marc Robitaille
Credit-music : @ Bill Elliott Swing Orchestra - Streamiliner


November 2014

On November 4, Takuvik Joint International Laboratory received the President of the French Republic, François Hollande, accompanied by the Minister of Foreign Affairs and International Development, Laurent Fabius and the Minister of Education, Higher Education and Research, Najat Vallaud-Belkacem. The event was an opportunity to present the research being conducted conjointly by Canada and France in northern Quebec. Marcel Babin, Takuvik's Director and the holder of the Canada Excellence Research Chair in Remote Sensing of Canada's New Arctic Frontier, pointed out that approximately 140 scientists are currently involved in Arctic research. In front of the audience of oceanographers and continental researchers, he explained that the focus of the research collaboration is to improve our understanding of the consequences of climatic and anthropogenic disturbances on marine and terrestrial ecosystems and geosystems in the Arctic. President Hollande also got a chance to see new observation technologies, such as an underwater glider, which collects deep sea data autonomously. This event was particularly symbolic because Marcel Babin's laboratory was presented as the flagship of French research teams abroad.

Video :


Diaporama :

Credit-photos: @ Marc Robitaille
Credit-music : @Vivaldi, Violin Concerto In F Minor, Op. 8_4, RV 297, The Four Seasons (Winter) - 3. Allegro


May-June 2014

Nine members of the Takuvik team left Dutch Habour, Alaska on the 2014 Arctic Spring Expedition aboard the USCGS Healy, collaborating with Dr. Kevin Arrigo's team (Stanford University). They sampled both the water column and sea-ice above the Chukchi Sea shelf in an attempt to better understand the massive blooms of phytoplankton observed beneath the ice. The overall goal of this mission was to understand the spatial and temporal distribution of phytoplankton living below the ice and the factors that control their growth such as light passing through ice, nutrients, circulation of the water masses, concentrations of algae ice, browsing, etc. Sampling took the form of ice coring, deploying phytoplankton and zooplankton nets, pumping water for DMS, collecting water with the rosette for studying marine biogeochemistry, using the Imaging FlowCytobot (IFCB) and LOKI (Lightframe On-sight Keyspecies Investigation) to obtain images or videos of phytoplankton zooplankton, as well as making acoustic measurements (Mid-trophic Automatic Acoustic sampler, MAAs) and obtaining optical data.

Scientists and cruise :


Nature and landscapes :

Credit-photos: @ Pierre Coupel
Credit-music : @ Eddie Vedder - Long nights @ Asa - Jailer


April 15-16 2014

The 4th Annual Meeting of Canada Excellence Research Chairs 'At the forefront of research and innovation' was held at Pavillon Alphonse-Desjardins and Maurice Pollack - Université Laval. The university community was invited to attend conferences by the CERC chairholders, all of whom are global leaders in their domains of expertise. The overview of the Canadian scientific achievements was divided into four themes: photonics and quantum physics, oceanography and a Arctic systems, health, and natural resources and energy.


March 2014

Research equipment arrived in Qikitarjuak, thus permitting the team of the French research schooner Le Vagabond, our scientific collaborator, to start their scientific experiments.




Credit-photos : @ Éric Brossier
Credit-music : @ My Bubba & Mi - After you, @ Bjork - Ging-glo


January 7-10 2014

The captain of the French research schooner Le Vagabond, Éric Brossier, is scheduled to visit Takuvik in order to prepare further scientific activities in the Arctic. Public activities are being planned. A film «Sur le grand océan blanc» is going to be shown at the Musée de la civilisation, Friday 10 January, 2014, at 7 PM.


November 10-16 2013

The French research vessel Tara and the crew of Tara Oceans Polar Circle are scheduled to be in the port of Québec. Public activities are being planned.
You can download the press release and consult the facebook event.


July 26 2013

Several members of the Takuvik team left Québec City on the 2013 Amundsen Expedition

View photos from leg 1A!

Credit-photos: @ Pierre Coupel
Credit-music : Sigur Rós - Sæglópur

View photos from leg 2A!

Credit-photos: @ Pierre Coupel
Credit-music : C2C Tetra - Happy


June 3-6 2013

The French Arctic Initiative's inuagural symposium entitled Arctic: the major scientific issues was held June 3-5, 2013 at Collège de France, in Paris. It was followed, on June 6, 2013, by a day of reflection on future prospects for the Arctic and, in the evening, public event at l'Institut Océanographique.