Déborah
Benkort
PhD Oceaonography

Phone : 418-656-2131
Fax : 418-656-2339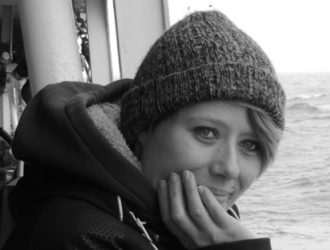 Education:

Ph.D Oceanography,
Université Laval, Canada (2014 -)
Introduction to computer programming and bio-physical modeling in the ocean environment. I am developing and carying out a research Project
M.Sc. Oceanography, University of Aix-Marseille
France (2011 – 2013)
Major fields of study were oceanography (physical, biological, chemical and geology), marine environment and ecology. Minor fields of my training were marine microbiology, genetic, marine economy and legislation.
B. Sc. Biology of Organisms, Populations and Ecosystems
University of Paul Sabatier, France (2008 – 2011)
Major fields of study were ecology, biology, genetics and evolution, Minor fields of study were basic concept in cellular, molecular and development biology, microbiology, botanic.

Research interests:

Bio-physical modeling
Zooplankton, Krill
Research experience:

Research assistant at the Laboratory of Louis Fortier, Scientific boat "Amundsen" (2016)
I work on: the establishment and maintenance of field and laboratory experiences; inventory and identification of fish and zooplankton species.
Teaching assistant (Biostatistics and Animal physiology class), undergraduates, Université Laval, Canada (2016 – 2017)
Assist the professor in the tutorials. Supports students in their work. Correct the work. Creation of tutorial exercises.
Internship at the Laboratory of Aquatic Sciences, UQAC, Canada (2013) [Master's Degree Internship] During this internship I work on: the establishment and maintenance of experimental design; the organization and coordination of field and laboratory experiences; inventory and identification of intertidal benthic species.
Volunteers relevant experiences:

Member of the Student Committee of Québec-Ocean (2016 - ) Participate in follow-up meetings and take part in decisions and organization of events.
Group leader accompagning for the event "Girls and Science" (2016) Accompany a group of high school students for a day of discovery in science. Discuss and share with them our experience in the field of science.
Speaker for the event " 24h Science" (2016) Intervene with students from kindergarten through high school to introduce them to the science. Organize talks and fun activities on the chosen topic. Judges to the hydro-
Québec sciences fairs (2013 – 2015) Assess and note scientific projects of different categories for different age groups of students. Discuss and provide constructive feedback to students.
Award:

Merit oral presentation mention, Québec-Océan (2016)