Paulina Bruning
M.Sc Marine Biology
Phone : +1(418)930-0355
Fax :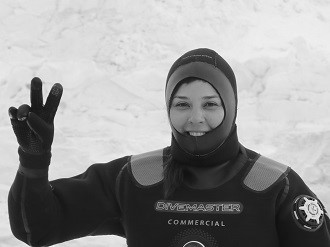 Education :

September 2017-Present: PHD Student in Oceanography: Genetic structure, diversity, and population ecology of a Polar regions Soft corals. Laval University, Archambault's Laboratory, Quebec (Canada).
2010-2012 Marine Biologist, Universidad Austral de Chile
2010-2005 Bachelor in Marine Biology, Universidad Austral de Chile

Field experience :

Research Assistant 2017-2012. Universidad Austral (Chile)
2012- present: Field Experience in Antarctic as Scientific diving

Research interests :

Animal and plant biology (taxonomy, physiology and evolutionary biology)
Marine Ecosystem
Ecology in polar system.
Published articles
Valdivia I, Oliva M, Bruning P, L. Cárdenas (2018) Molecular analysis demonstrates that hakes (Pisces: Merluccidae) of South America are hosts for one species of Aporocotyle and not three: Implications for the biogeography of South American hakes (accept in International Journal for Parasitology)

Gaitán-Espita JD, Sánchez R, Bruning P, L Cárdenas (2016). Tasting the sea: Functional insights into the gonad transcriptome of the edible sea urchin Loxechinus albus. 6:36516. doi:10.1038

Morales K, Sánchez R, Bruning P, Manríquez P, Brante A, L Cárdenas (2016). A multiple microsatellite assay to evaluate the mating behavior of the intensively exploited marine gastropod Concholepas concholepas (Bruguiére, 1789) (Gastropoda: Muricidae). The nautilus 130(4): 153-157

Arévalo A, Brüning P, Sanchez R, Cárdenas L (2014). Development and characterization of EST- microsatellites for the edible sea urchin Loxechinus albus using next generation sequencing. Conservation Genetics Resources, 6:433-435. ISI 1,172

Presentation
2018 Brüning P., Cárdenas L., Archambault P "Ecology and molecular approaches to understand the biology and connectivity in soft corals inhabiting polar. World Conference on Marine Biodiversity". Montreal, Canada.
2016 Brüning P., Cárdenas L. "Application of microsatellite markers in conservation genetics and fisheries management of Concholepas concholepas (loco)". Western Society of Naturalists. California, United States.