Matthieu
Huot
PhD Student in Biophotonics
Phone : 418-750-1262
Fax : 418-656-2339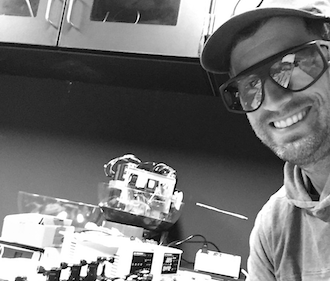 Education:
PhD Biophotonics (2017 – present)
Study of fluorescence, absorption and reflectance properties of arctic phytobenthos for the development of an underwater LiDAR
Laval University
M.Sc Renewable resources (2003-2007)
Stable isotopes in ecology
University of Québec at Chicoutimi
B.Sc Biology (1999-2002)
Ecology
Laval University

Research interest:
In the context of global climate change and observed effects on polar regions, I work on contributing to the development of an underwater phytobenthos (macro and microalgae) and ice algae LiDAR (Light Detection And Ranging), currently needed for a more large-scale characterization of the presence and distribution of algae in the Arctic. My part is to initially characterize the reflectance, fluorescence and absorption properties of temperate-cold-arctic macroalgae as arctic substrates, as a means to guide the application of various LiDAR detection methods. Through the instrument's development process, I will participate in open water testing and LiDAR data validation by comparative and collaborative sampling methods (e.g. dive surveys, mbes).
Macroalgal spectral response
Classification by machine learning
Marine bio-optics
Multispectral laser imaging techniques
Previous work experience:
Biologist – Fisheries & Oceans Canada (2006-2014 / 2015-2017)
Project coordination - invasive species in aquaculture (underwater experiments - scuba)
International cargo vessel ballast sampling - CAISN (water, sediment)
Dive surveys and experiments with macroalgae
Scientific translation / various research groups (contracts during 2006-2018)
English revision
French to English translation
Publications:
McKindsey CW, Lecuona M, Huot M & AM Weise (2009). Biodeposit production by mussels and associated tunicate epifauna and benthic loading in a Prince Edward Island mussel farm. Aquaculture vol. 295 issue 1-2 October 1. p. 44-51
Huot M & J Ibarzabal (2006). A comparison of the age-class structure of black-backed woodpeckers found in recently burned and unburned boreal coniferous forests in eastern Canada. Annales Zoologici Fennici. 43 (2): 131 – 136
Mazerolle MJ, Huot M & M Gravel (2005). Behaviour of amphibians on the road in response to car traffic. Herpetologica. 61 (4): 380 - 388.
Proceedings:
Huot M, Rehm E, Dalgleish F, Piché M, Lambert-Girard, S, Archambault P (2018) Characterizing fluorescence and reflectance properties of Arctic macroalgae as future LiDAR targets. Proc. SPIE 10631, Ocean Sensing and Monitoring X, 106310X (25 May 2018).
Presentations:
Huot M, Dalgleish F, Vuorenkoski A, Rehm E, Archambault P, Piché M (2018) Multispectral serial laser imaging techniques for underwater spectral discrimination of macroalgae and coral. RAD-Lidar Conference 2018, Fort Pierce, Florida, US, 5-6 November
Huot M, Dalgleish F, Vuorenkoski A, Rehm E, Archambault P, Piché M (2018) Multispectral serial laser imaging techniques for underwater spectral discrimination of macroalgae and coral. Harbor Branch Summer Intern Program, Fort Pierce, Florida, US, 2 August
Huot M, Rehm E, Dalgleish F, Piché M, Lambert-Girard, S, Archambault P (2018) Characterizing fluorescence and reflectance properties of Arctic macroalgae as future LiDAR targets. SPIE Defense + Commercial Sensing, Ocean Sensing and Monitoring X, Orlando, Florida, US, 15-18 April
Huot M, Ibarzabal J & J-P L Savard (2005). Early post-fire colonisation of boreal forest stands by Black-backed Woodpeckers: using hydrogen stable-isotope ratios to detect presence of age dependant movements. Canadian Society of Ornithologists, Halifax, Nouvelle-Écosse, 20 - 22 October
Huot M, Ibarzabal J & J-P L Savard (2005). Tracking early post-fire colonisation of Black-backed Woodpeckers using hydrogen stable isotope signatures in boreal forest of eastern Canada. Sixth International Woodpecker Symposium, Mekrijärvi, Finland, 27 - 30 August
Huot M, Ibarzabal J & J-P L Savard (2005). La colonisation des brûlis récents en forêt boréale par le Pic à dos noir : utilisation de ratios d'isotopes stables de l'hydrogène. Association canadienne-française pour l'avancement des sciences (ACFAS), Chicoutimi, Québec, 9-13 mai
Huot M, Ibarzabal J & J-P L Savard (2005). La colonisation des brûlis récents en forêt boréale par le Pic à dos noir : résultats préliminaires. CONFOR (Graduate Student Conference on Forest Research), Québec, 3-6 février
Posters:
Huot M, Dalgleish F, Vuorenkoski A, Rehm E, Archambault P, Piché M (2018) Multispectral serial laser imaging techniques for underwater spectral discrimination of macroalgae and coral. ArcticNet ASM 2018, Ottawa, Ontario, Canada, 10-14 December
Huot M, E Rehm , F Dalgleish, S. Lambert-Girard, M Piché, P Archambault (2017) Spectrofluorescence and reflectance properties of Arctic benthic algae as future LiDAR targets. ArcticNet ASM 2017, Québec, Québec, Canada, 11-15 December
Huot M & CW McKindsey,(2008). Evaluating Codium fragile ssp. tomentosoides' potential for colonizing cold waters of the St. Lawrence. 37e Benthic Ecology Meeting 2008, Providence, Rhode Island, USA, 9-13 April