Saint-Cricq
Béatrice
Partnership and technology transfer

Phone : 418-656-2131 ext. 404885
Fax : 418-656-2339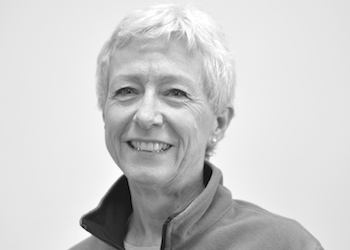 Education:

Thèse d'Etat : Diodes laser à puits quantique : modélisation physique et réalisation par épitaxie par jets moléculaires de dispositifs GaAs/GaAlAs (1983-1987)
Université P. Sabatier, Toulouse, France
Post doctoral training Micro-optoelectronics and molecular beam epitaxy (1982-1983)
University of California, Berkeley, USA
Ph.D. Analyse du processus d'épitaxie liquide en vue de la réalisation de diodes laser GaAlAs émettant dans le spectre visible. Etude de l'incorporation du dopant Zn. (1980-1982)
Université P Sabatier, Toulouse, France
Master of science in Solid State Physics
University of London, UK
Diplôme d'ingénieur, spécialité physique du solide
INSA, Toulouse France
Experience:
From June 2016 : in charge of strengthening partnerships between CNRS and Université Laval, international partnership and technology transfer in the framework of the Sentinel North project.
2013-2016 : Head of the regional administration office (déléguée régionale) for CNRS in the Côte d'Azur area.
2005-2013 : Head of the CNRS regional partnership and technology transfer department in Marseilles area, France.
2003-2005 : Industrial liaison officer in the Laboratoire de Matériaux et de Microelectronique de Provence, Marseilles, France
1995-2003 : Head of the CNRS regional partnership and technology transfer department in the Côte d'Azur area, France.
1992-1995 : visiting scientist in EPFL, Lausanne, Switzerland
1984-1992 : research scientist in CNRS, Laboratoire d'Automatique et d'Analyses des Systèmes, Toulouse, France


Research Interest:


Starting with an education in materials for electronics, I performed research for 15 years on the conception and fabrication of laser diodes, quantum well diodes, surface emitting diodes. I then turned to activities dealing with innovation and business relations for CNRS with its partners, with intellectual properties protection, contract negotiation, technology transfer to industry and innovative start up development. These activities apply to all scientific fields, from materials, to electronics, chemistry, biology and social sciences.
Selected Publications:


M.GOTZA, B.SAINT-CRICQ, M.DUTOIT, P.H.JOUNEAU. 1995
Natural masking for produciong sub-10 nm silicon nanowires
Microelectronic Engineering, 27, PP.129-132,
B. SAINT-CRICQ, A. RUDRA, J.D.GANIERE, M.ILEGEMS 1994
Reactive ion etching of GaInP/GaAs multilayer structures with SiCl4-Cl2-Ar plasma
Material Science and Engineering B28, pp.365-368
B. SAINT-CRICQ, A. RUDRA, J.D.GANIERE, M.ILEGEMS 1993
High reflectance GaInP/GaAs distributed Bragg reflector
Electronics Letters, Vol. 29, N°.21, pp.1854-1855
B. SAINT-CRICQ, S.BONNEFONT, R.AZOULAY, L.DUGRAND 1991
Performance characteristics of strained layer InGaAs/GaAs broad area ridge waveguide
Electronics Letters, Vol.27, N°.10, pp.865-866
B. SAINT-CRICQ, S.BONNEFONT,F. LOZES DUPUY, H.MARTINOT, R.AZOULAY
E.V.K.RAO, L.DUGRAND, A.MIRCEA 1991
Growth and caractérisation of low threshold, cw operated ridge waveguide strained layer
InGaAs/GaAs SQW lasers
Material Science and Engineering B9, pp.351-354
F. LOZES DUPUY, B. SAINT-CRICQ, S.BONNEFONT, M. DELORT, H. MARTINOT 1989
Développements récents des diodes laser à émission par la surface
Journal of optics, Vol 20, N2, pp. 65-70
M. PUGNET, J. COLLET, B. SAINT-CRICQ 1988
Induced picosecond infrared absorption in GaAs
Europhysics letters, Vol 7, N.6, pp. 567-572
B. SAINT-CRICQ, F. CHATENOUD, F. LOZES DUPUY, S.FOURTINE, H. MARTINOT 1988
Visible AlGaAs single quantum well lasers with low threshold current density grown by molecular
beam epitaxy
Electronics letters, Vol 24, N9, pp. 537-539
F. LOZES DUPUY, B. SAINT-CRICQ, G. VASSILIEFF, L. VASSILIEFF, A. BENSOUSSAN 1987
Modélisation du courant de seuil de diodes laser GaAlAs à guidage par l'indice
Revue de physique appliquée, Vol 22, N 11, pp. 1561-1569
B. SAINT-CRICQ, F. LOZES DUPUY, G. VASSIFIEFF 1986
Well width dependence of gain and threshold current in GaAlAs single quantum well lasers
IEEE Journal of quantum electronics, Vol 22 N 5, pp. 625-630
G. VASSIFIEFF, B. SAINT-CRICQ 1984
Preparation of devices by liquid phase epitaxy with application to the achivement of visible laser in GaAlAs
Journal of applied physics, Vol 55, N°3, pp.743-751
G. VASSIFIEFF, B. SAINT-CRICQ 1983
Simulation assistée par ordinateur du processus de réalisation d'hétérostructures GaAlAs par épitaxie en phase liquide
Journal of applied physics, Vol 54, N°8, pp.4581-4585