Sansoulet
Julie
Coordinator - CNRS - Communication/Humanities

Phone : 418-656-2131 ext. 406998
Fax : 418-656-2339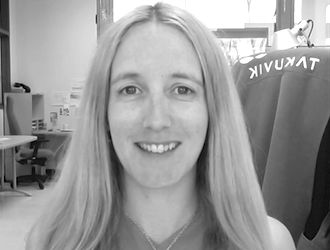 Education:

Ph.D. Hydrology and Geochemistry (2003-2007)
AgroParisTech, INRA, France
M.Sc. Continental Biosphere (2001-2002)
AgroParisTech, INRA, France

Diploma in Journalism (2000-2001)
Ecole Supérieure de Journalisme de Lille, France

Ingénieur Agronomy (1996-2000)
Ecole Supérieure d'Agriculture de Purpan, Toulouse, INRA, Grignon - Rennes - La Réunion, France
Past experience:
Postdoctoral training in agronomic geochemistry (2010-2012)
Agriculture-Canada, Ottawa, Canada

Assistant Researcher - private sector - Phytoremediation (2007-2010)
CIRAD, Montpellier - La Réunion, France

Communication Interests:

Journalism for researchers and general public
Public events: photo exhibitions and conferences
Website management
Actualities in social media
Education
Videos and documentaries

Research Interest:

Technical and management aspects of international research projects.
Collaboration with R&D teams from private companies.
Disciplines :
Water management, field biogeochemistry and hydrology, phytoremediation, deterministic water and solutes (NPK) modeling to predict effects of land use/climate change.
Selected Publications:

Sansoulet, J., Pangrazi, J.-J., Sardet, N., Mirshak, S., Fayad, G., Bourgain, P. and M. Babin. 2019. Green Edge Outreach Project: A large-scale public and educational initiative. Polar Record, https://doi.org/10.1017/S0032247419000123

Bouchard, F., Sansoulet, J., Fritz, M., Malenfant-Lepage, J., Nieuwendam, A., Paquette, M., Rudy, A., Siewert, M., Sjoberg, Y., Tanski, G., Habeck, J.O., and J. Harbor. 2018. "Frozen-Ground Cartoons": Permafrost comics as an innovative tool for polar outreach, education, and engagement. PolarRecord. 54(5-6): 366-372.


Guest, G., Kröbel, R., Grant, B., Smith, W., Sansoulet, J., Pattey, E., Desjardins, R., Jégo, G., Tremblay, N. and G. Tremblay. 2017. Model comparison of soil processes in eastern Canada using DayCent, DNDC and STICS, Nutr Cycl Agroecosyst. 109: 211-232.

Sansoulet, J, Pattey, E., Kroebel, R., Grant, B., Smith, W., Jégo, G., Desjardins, R..L, Tremblay, N., and G. Tremblay, 2014. Comparing the performance of the STICS, DNDC and DayCent models for predicting N uptake and biomass of spring wheat in Eastern Canada. Field crop research, 156: 135-150.

Legros, S., Doelsch, E., Moussard, G., Feder, F., Sansoulet, J., Gaudet, J.P., Rigaud, S., Saint-Macary, H. and J-Y. Bottero. 2013. Fate and behaviour of Cu and Zn from pig slurry spreading in a tropical water-soil-plant system. Agriculture, Ecosystems and Environment, 164: 70-79.

Cannavo, P., Sansoulet, J., Siles, P., Harmand, J.-M., Dreyer, E., and P. Vaast, 2011. Agroforestry associating coffee and Inga densiflora results in complementarity for water uptake and decreases deep drainage in Costa Rica. Agriculture, Ecosystems and Environment, 140 (1-2): 1-13.

Cabidoche, Y.-M., Achard, R., Cattan, P., Clermont-Dauphin, C., Massat F., and J. Sansoulet, 2009. Long-term pollution by chlordecone of tropical volcanic soils in the French West Indies: a simple leaching model accounts for current residue. Environmental Pollution, 157: 1697–1705.

Sansoulet, J., Y.M., Cabidoche, P., Cattan, S., Ruy and J., Simunek, 2008. Spatially Distributed Water Fluxes in an Andisol under Banana Plants: Experiments and Three-Dimensional Modeling. Vadose Zone Journal. 7(2): 819-829.

Sansoulet, J., Y.M. Cabidoche, and P. Cattan, 2007. Adsorption and transport of nitrate and potassium in an Andosol with variable charge: Experimental studies under banana plants in Guadeloupe (French West Indies). European Journal of Soil Science. 58(2): 478-489.

Cattan, P., M. Voltz, Y.M. Cabidoche, J.G. Lacas, and J. Sansoulet, 2006. Spatial and temporal variation of percolation fluxes as influenced by cropping patterns in banana field. Journal of Hydrology. 335 (1-2): 157-169.